Let us introduce ourselves…
"We believe in a person-centred approach where the customer in care has choice and control over the solutions they need and the lifestyle they want."
What we believe
MySupport College is built for the consumer generation. We teach workers to delight their customers with a personalised customer experience whilst caring for them. We offer a full pathway to employment complete with formal qualifications via our online learning platform and real–world learning experiences.
We offer accessible and flexible online learning to the health and social care sectors in. Our framework of peer-to-peer support, 'experts by experience' driven online content and teaching delivers unique courses, learning experiences and accredited qualifications unavailable anywhere else.
Our courses are responding to the changing market of social care where people increasingly arrange their own care. The new consumer generation, no longer satisfied with the current service of short, time-and-task visits, will require more from their carers. Our learners will be able to work independently as carers with formal qualifications, self-worth and choice and control over where they work and who they work with, breaking the vicious circle of inadequate training, poor customer experience and unhappy staff.
As online education continues to evolve with huge success for students globally, there is no better time to become part of this education revolution and bring it to the health and social care sector.
Setting the scene
There are 3.6 million people in the UK care sector. The health and social care workforce majority is made up of part time workers who can often be on the margins of conventional training and employment.
There is a 30% staff turnover in the care sector – twice the national average – due to low status, low pay and low value by employers. Sixty-eight percent of health and social care staff feel they get inadequate training and 80% have no qualifications.
It's not that people aren't fit for employment, it's just that employment and work opportunities are not fit for them. The conventional training currently on offer is agreed to be minimal and inadequate and can often keep carers on the margins of mainstream training and employment.
We are changing this by providing a new learning environment tailored to the unique set of skills and needs of each learner. Additionally to this, we aim to create online and offline communities of carers who can support each other in a peer-to-peer environment.
What we do
MySupport College puts lived experience and learnt expertise at the heart of our learning outcomes and course materials. We offer online training and 1-to-1 tutor support for anyone looking to start or develop their career in health and social care.
Our college team of tutors and assessors all have lived experience of disability or mental health conditions, giving us a competitive edge to providing you with the best education experience.
What you get
You will be able to improve your skills, knowledge base and widen your network to becoming a qualified, self-employed care provider. You will learn how to delight your customers whilst providing them with the right sort of care that they need.
This will be a rewarding career for anyone looking to work within the health and care sector.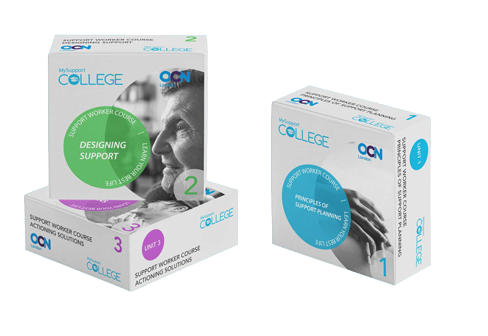 Take the first step to becoming a self-employed Support Worker with our 3 introductory courses.
See our other courses
From eBooks to fully assessed video courses with 1-to-1 tutor support.