Gain qualifications in
health and social care
Research shows that learning a new skill or gaining a qualification in adult life can improve our mental health and wellbeing. The benefits of taking a course can be found whether you are looking for a new job or wanting to develop new skills for your existing role.
Care Work Courses
Designing Support
Buy all 3 courses for £45 which is £5 off each course.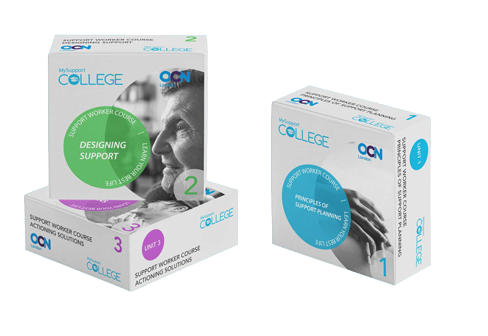 Work-life balance
Returning to learning as an adult can be difficult when you are juggling other factors of your life such as family, work or both. Flexibility of a course is vital when you are feeling that you don't have enough time to fit learning into your life. The flexibility of online learning means you can access the course anytime and anywhere. At MySupport College all of our courses are designed so that you can pause and return when needed.
Affordable
Adults can also find the cost of learning a barrier. A MillionPlus university report suggested that tuition fees can cause almost 20% of older learners to drop out of University. Travel costs and time can also be a major factor when choosing the right place to study. Online learning immediately cuts this out of the budget. You can access all of our courses from any computer or mobile device and this can be from home or any location which has access to the internet. Learning from home means that the course can fit around your day rather than having to make your day fit around your education, which is what you would experience in a more traditional learning environment – such as college or university.
Accessible
Disabled learners and learners with a mental health condition can find a traditional college setting inaccessible and therefore this can prevent their ongoing education. 25% of disabled people do not have any qualifications and 50% are unemployed. Research shows that a lack of rights and access to resources and opportunities for  disabled people and those with mental health conditions means that it can be very difficult to re-enter education or progress themselves in employment. In 2015, 1180 students dropped out of university due to a mental health condition.
Online learning immediately breaks down this barrier and can either be a great alternative or support for accessing mainstream, traditional educational settings. A recent report revealed that tens of thousands of teenagers are using apps to support their mental health. Apps, social media, video content and gaming creates a natural and accessible system of learning and support.
MySupport College offers a space for learning to build a community around our courses. Either through joining our Facebook group or being linked to peers who can support your learning and assessment. We offer courses which can improve your work skills and introduce you to learning again. We are also accredited by our awarding body OCN London which gives us the opportunity to provide courses that offer qualifications to our learners at a range of levels. For our adult learners it can be overwhelming to take on a whole qualification at once. OCN London allow us to break down these qualifications into manageable units increasing the flexibility of your learning and allowing it to be fitted around the needs of the individual learner.
Care Work Courses
Designing Support
Buy all 3 courses for £45 which is £5 off each course.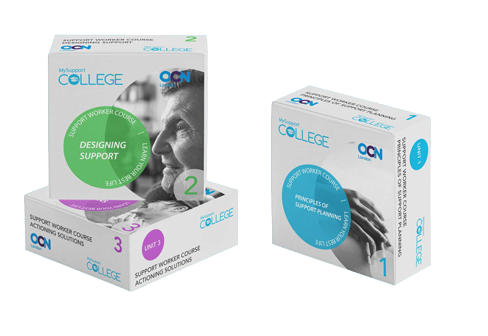 Why not check out all of our learning materials, from short eBooks to fully assessed and accredited courses, to see how you can develop your learning and career.